---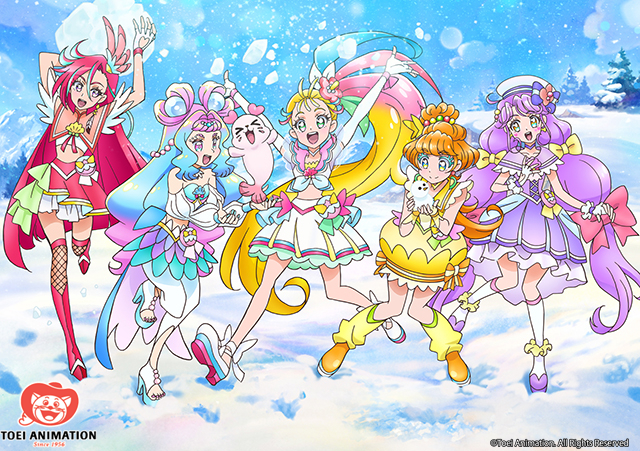 En la noche del estreno de la película Tropical-Rouge! Precure Yuki no Princess to Kiseki no Yubiwa! (Tropical-Rouge! Precure The Movie: The Snow Princess and the Miracle Ring) en Japón, las cinco actrices principals del anime se reunirán para una charla en directo que se emitirá en YouTube.
Esta sera la película 30 de la longeva franquicia de Precure, y se estrenará mañana 23 de octubre en Japón, mientras que el directo se realizará en el canal de YouTube a las 8 p.m. hora de Japón ese mismo día. En el programa estarán presentes Fairouz Ai (Manatsu Natsuumi / Cure Summer), Rina Hidaka (Laura / Cure La Mer), Yumiri Hanamori (Sango Suzumura / Cure Coral), Yui Ishikawa (Minori Ichinose / Cure Papaya) y Asami Seto (Asuka Takizawa / Cure Flamingo).
Las cinco intérpretes hablarán sobre el proceso de grabaciones tras cámaras, algo que solo se podrá ver durante este programa, así como información sobre la película y su historia.
\????????追加決定???????? /

????10月23日(土)20:00~
プリキュア公式YouTubeチャンネルにて

【#映画トロプリ 公開記念!】
トロピカ生配信トークイベント!の開催が決定❣️#トロプリ キャストのみなさんが
楽しくトークでわいわい????✨
スペシャルな企画も⁉️

おたのしみに~❄️https://t.co/wrASo0dNqN pic.twitter.com/uBwsXyP2w8

— 『映画トロピカル~ジュ!プリキュア 雪のプリンセスと奇跡の指輪!』 (@precure_movie) October 21, 2021
☆*:.。. .。.:*☆☆*:.。. .。.:*☆
 #映画トロプリ
  カウントダウン⏰????
☆*:.。. .。.:*☆☆*:.。. .。.:*☆

いよいよ明日公開????✨

今日は#トロプリ のみんなが
カウントダウンしてくれたよ????????

初めての雪の国❄️
とってもワクワクしちゃうね❣️#precure #プリキュア pic.twitter.com/sJ4ubsoxHa

— 『映画トロピカル~ジュ!プリキュア 雪のプリンセスと奇跡の指輪!』 (@precure_movie) October 21, 2021
Tráiler completo
Cartel del anime: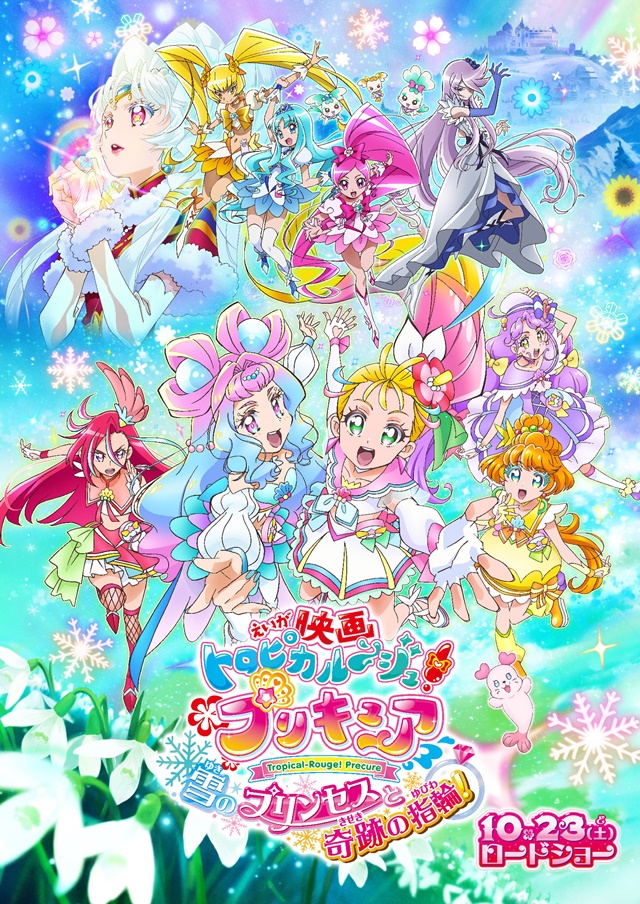 Fuente: Canal de YouTube de la franquicia Precure
©ABC-A, Toei Animation
©2021 Tropical-Rouge! Precure The Movie Production Committee
---