---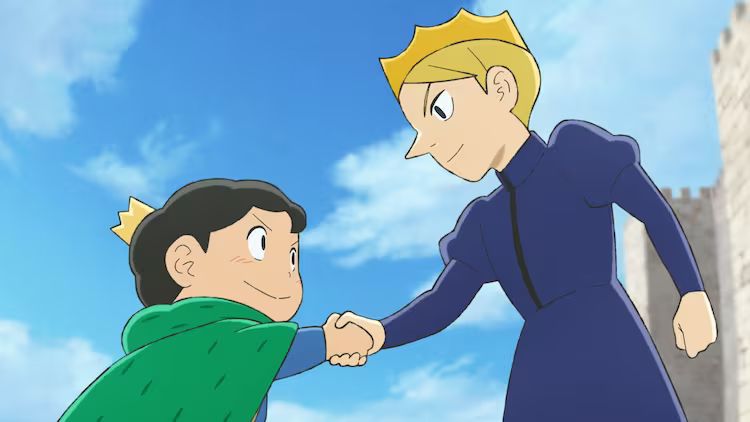 La banda de rock PEOPLE 1 (ending 10 de Chainsaw Man) y la cantautora Aimer (ending 9 de Chainsaw Man), serán los encargados de cantar las alabanzas a su majestad Bojji y Kage en sus futuras aventuras en Ranking of Kings: Treasure Chest of Courage. Ambos interpretarán "GOLD" y"Atemonaku", el opening y ending de la serie, respectivamente.
También vio la luz un nuevo tráiler principal de la serie, en el cual se escuchan adelantos de ambos temas musicales y se fija el 13 de abril a las 24:55 (hora japonesa) como la fecha de estreno de esta temporada de historias alternas. Por los momentos se desconoce cuántos episodios tendrá el anime.
Tráiler Principal:
Based on the manga by Sosuke Toka, Ranking of Kings is directed by Yosuke Hatta (Boogiepop and Others assistant director) at WIT Studio, with series composition by Taku Kishimoto (Fruits Basket), character designs by Atsuko Nozaki and music by MAYUKO (Cells at Work!).
Basado en el manga de Sosuke Toka, Ranking of Kings está dirigido por Yosuke Hatta (asistente de dirección de Boogiepop and others) bajo WIT Studio, con composición de serie de Taku Kishimoto (Fruits Basket), diseños de personajes de Atsuko Nozaki y música de MAYUKO (Cells at Work!).
Esta es la sinopsis del anime:
Cuán próspera es tu nación, de cuántos guerreros poderosos se jacta, y cuán heroico y fuerte es su rey. Estos son los criterios que se tienen en cuenta en el sistema conocido como Ranking of Kings.
El personaje principal, Bojji, nació como el primer príncipe del reino gobernado por el rey Bosse, que ocupa el puesto número siete.
Pero Bojji nació sordo y es tan impotente que ni siquiera puede blandir una espada. En consecuencia, sus propios vasallos y el público lo miran con desdén como alguien completamente inepto para ser rey.
Es entonces cuando Bojji encuentra a su primer amigo, Kage, y su vida da un giro dramático...

Fuente: Comic Natalie
---