---
El equipo de HeartCatch Precure! unirá fuerzas con las integrantes de la serie actual, Tropical-Rouge! Precure, para la nueva película Eiga Tropical-Rouge! Precure Yuki no Princess to Kiseki no Yubiwa! (Tropical-Rouge! Precure The Movie: The Snow Princess and the Miracle Ring).
HeartCatch Precure! fue la séptima serie de la franquicia y se emitió por 49 episodios entre Febrero de 2010 y Enero de 2011. La serie actual es la número 18 en la larga franquicia de magical girls.
El canal oficial de YouTube de Precure publicó un tráiler de 60 segundos mostrando el regreso de dos de las chicas de Heartcatch, Tsubomi Hanasaki / Cure Blossom y Erika Kurumi / Cure Marine, interpretadas por Nana Mizuki y Fumie Mizusawa respectivamente.
Mizuki dijo:
"¿Una película? ¿En serio? ¡Estaba tan sorprendida y emocionada! Han pasado algunos años desde la película PreCure All Stars… Después de actuar en la película por el 15 Aniversario hace tres años, esperaba que lo siguiente fuera el 20 Aniversario, así que nunca pensé que tendría otra ocasión de interpretar a Cure Blossom ¡Estoy tan feliz".
Por su parte, Mizusawa añadió:
"¡Trabajaré junto a todas las miembros de Tropical-Rouge! así que los niños que estén viendo Heartcatch por primera vez, serán capaces de aceptarnos de forma natural."
Para celebrar el lanzamiento de la película, el canal Toei Animation Museum emitirá todos los 49 episodios de HeartCatch Precure!, 10 episodios a la semana, de forma gratuita y por tiempo limitado a partir del 5 de Agosto a las 9:00 p.m. hora de Japón.
Nuevo tráiler:
????#映画トロプリ ????#ハトプリ 登場編予告解禁????

そして!!✨
TVアニメ #ハートキャッチプリキュア!
YouTubeで全話無料配信が
決定したよ????????

8/5(木)21:00~スタートするよ????
楽しみに待っててね????

????キャストからもコメントが届いたよ❣️https://t.co/AecFuBHGoU#映画プリキュア #precure pic.twitter.com/O7v9GszeDd

— 『映画トロピカル~ジュ!プリキュア 雪のプリンセスと奇跡の指輪!』 (@precure_movie) August 2, 2021
Eiga Tropical-Rouge! Precure Yuki no Princess to Kiseki no Yubiwa! se estrenará en Japón este 23 de Octubre.

Cartel de la película: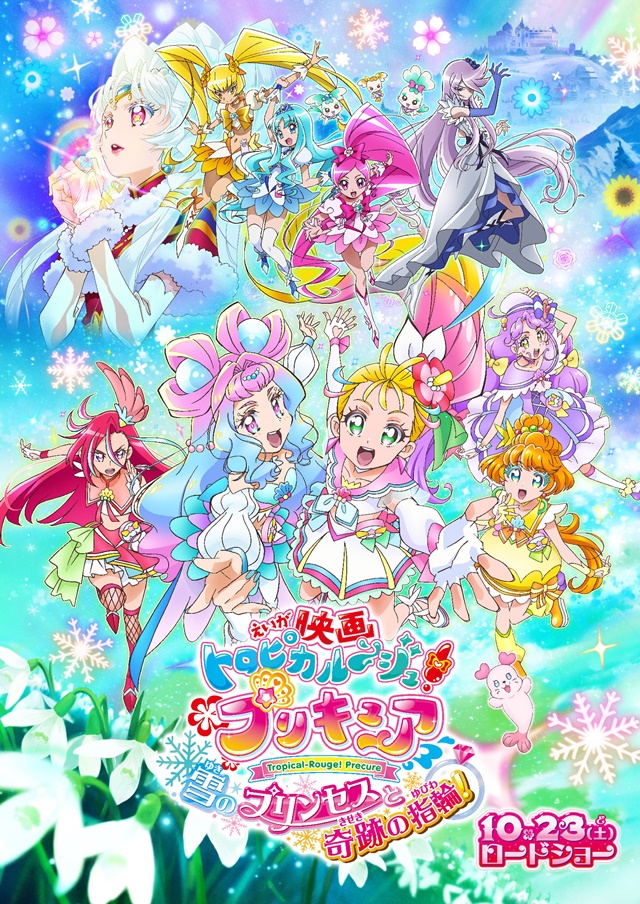 Fuente: Web Oficial de Tropical-Rouge! Precure The Movie y Canal de YouTube de Precure
©ABC-A, Toei Animation
©2021 Tropical-Rouge! Precure The Movie Production Committee
---