---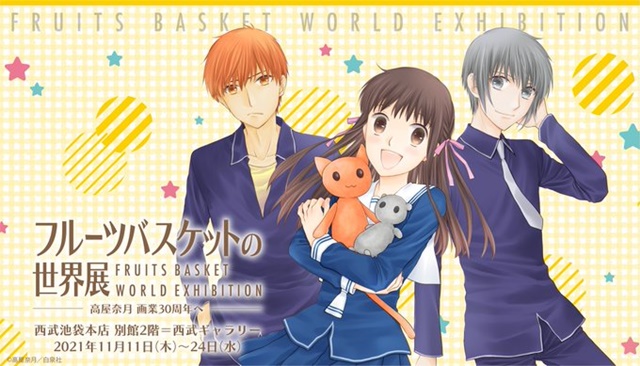 La web oficial de la franquicia animada Fruits Basket ha anunciado que para conmemorar el 30.º aniversario de Natsuki Takaya, autora del manga original, se celebrará en la Seibu Gallery de Tokio una "Fruits Basket World Exhibition" del 11 al 24 de noviembre de 2021.
La exposición contará con ilustraciones originales a todo color, manuscritos del manga y más materiales de Takaya desde su debut hasta el presente, dando especial protagonismo a Fruits Basket. En la exposición habrá materiales de Fruits Basket (1998-2006), incluyendo su última adaptación animada, de Fruits Basket Another (2015-2019), de Phantom Dream (1994-1997), de Tsubasa: Those with Wings (1995-1998), de Twinkle Stars (2007-2011) y de Liselotte & the Witch's Forest (2011-2013).
El precio de la entrada corriente para adultos será de 900 yenes, aunque los estudiantes universitarios y de preparatoria/instituto pagarán solo 700 yenes, mientras que los estudiantes más jóvenes pagarán 500 yenes. Los estudiantes de primaria y niños pequeños no pagarán entrada.
#高屋奈月 先生の画業30周年を記念した企画展が始動!

「#フルーツバスケット の世界展」
今秋開催決定です????????

????カラー原画やマンガ原稿を展示!
????過去連載作品も勢ぞろい!
????2019年より放送のアニメの展示も!

詳細は後日発表予定です♪https://t.co/dducVBHXJ4

お楽しみに????????????#フルバ pic.twitter.com/oMkNYCAcCP

— TVアニメ「フルーツバスケット」公式 (@fruba_PR) September 3, 2021
---
Fuente: Web oficial de la "Fruits Basket World Exhibition", Web del anime "Fruits Basket" / Twitter
©Natsuki Takaya/Hakusensha
---