---
El sitio web oficial del anime Gundam Reconguista in G anunció el lanzamiento de los últimos dos capítulos de su proyecto de 5 filmes recopilatorios. Ha transcurrido casi un año desde el estreno de su tercera parte en julio de 2021.
Las películas se basan en la serie de 26 episodios que se emitió entre octubre de 2014 y marzo de 2015, como parte del proyecto del 35º Aniversario de Gundam. Su primer capítulo, "Ike! Core Fighter! / Go! Core Fighter" se estrenó en noviembre de 2019, luego el segundo "Bellri Singeki / Bellri's Fierce Charge" y el tercero "Uchu kara no Isan / The Legacy of Space" se estrenaron en febrero de 2020 y julio de 2021, respectivamente.
El cuarto episodio, "Gekitou ni Sakebu Ai / Shouting Love Into a Fierce Fight", llegará a las alas de cine japonesas el 22 de julio de 2022 y el quinto, "Shisen wo Koete / Crossing the Line Between Life and Death", hará los propio el 5 de agosto de 2022. De acuerdo al sitio web oficial: "Estas ediciones cinematográficas están basadas en material de la serie de televisión, y se han hecho en una versión de alta calidad, pero la cantidad de escenas nuevas del cuarto y quinto capítulo se ha incrementado de forma importante. Como resultado, la historia misma ha evolucionado a una versión actualizada de la serie de TV".
/
????劇場版『Gのレコンギスタ』
????️Ⅳ&Ⅴ 2作連続公開決定‼️
\
????️第4部「激闘に叫ぶ愛」7月22日(金)~
????️第5部「死線を越えて」8月5日(金)~

公式サイトでは、Ⅳ&Ⅴ合同ビジュアルも解禁‼️
????https://t.co/5CtAMSU9Ow#gレコ #待ち遠しくても待て pic.twitter.com/ZOqq0OPwbJ

— Gのレコンギスタ (@gundam_reco) March 23, 2022
Imagen Promocional: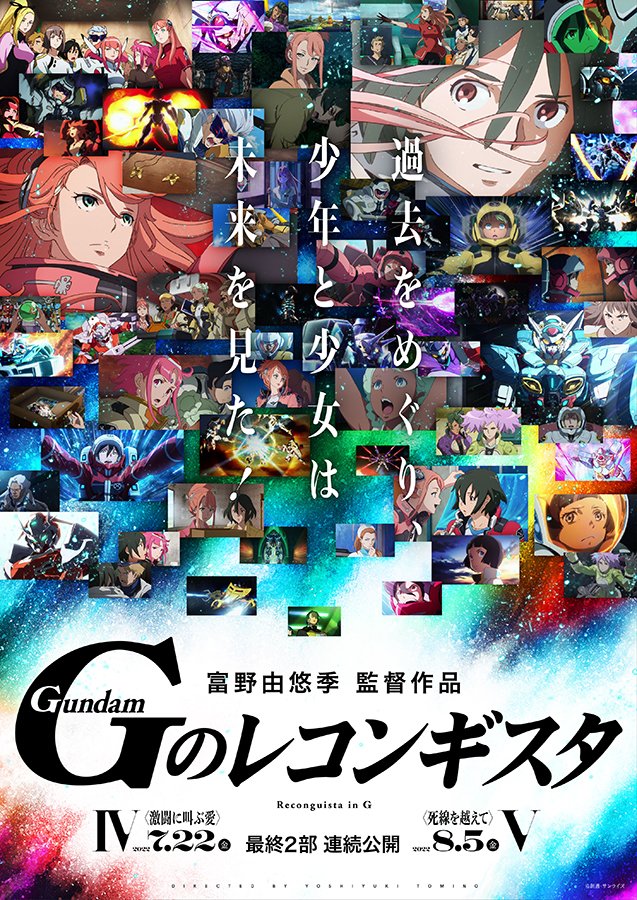 ---
Fuente: Web Oficial de Gundam Reconguista in G y Twitter
(C) SOTSU/SUNRISE
---