---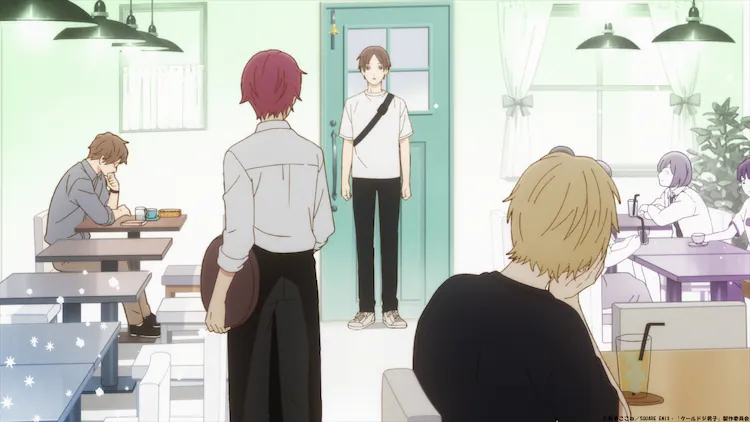 Después de presentar su opening, el anime de comedia Play It Cool, Guys ahora nos trae su ending, además de introducir una nueva a adición a su creciente reparto de personajes.
Esta es la nueva inclusión en el reparto:
Makoto Furukawa (Shirogane en Kaguya-sama: Love is War) como Motoharu Igarashi

Los cuatro actores protagonistas, Chiaki Kobayashi (Hayate), Koki Uchiyama (Shun), Yuichiro Umehara (Takayuki) y Shoya Chiba (Soma), interpretarán "Flash!" el ending de la serie como el grupo PICG.
Basado en el manga original de Kokone Nata, el anime de Play It Cool, Guys (Cool Doji Danshi) cuenta con Chiaki Kon (Golden Time, The Way of the Househusband) en la dirección para Studio Pierrot. La composición de la serie recae en Makoto Uezu (KONOSUBA -God's blessing on this wonderful world!), el diseño de personajes y la jefatura de la dirección de animación en Eri Taguchi (Keep Your Hands Off Eizouken!) y la música será de Masato Nakayama (My Little Monster).
Esta es la sinopsis de la historia:

Aquí entran: un grupo de chicos geniales que parecen tener esa aura de ser inaccesibles. Pero mira más de cerca y encontrarás un montón de idiotas que se han aprendido el acto al pie de la letra. Así que siéntate, toma palomitas de maíz y disfruta viendo a estos tipos torpes tratando de verse bien todo el día, todos los días.
El anime se estrenará el 10 de octubre de 2022 a las 25:30 (la 1:30 a.m. del día 11), se emitirá por dos temporadas y cada episodio tendrá una duración de 15 minutos.
Fuente: Comic Natalie
---