---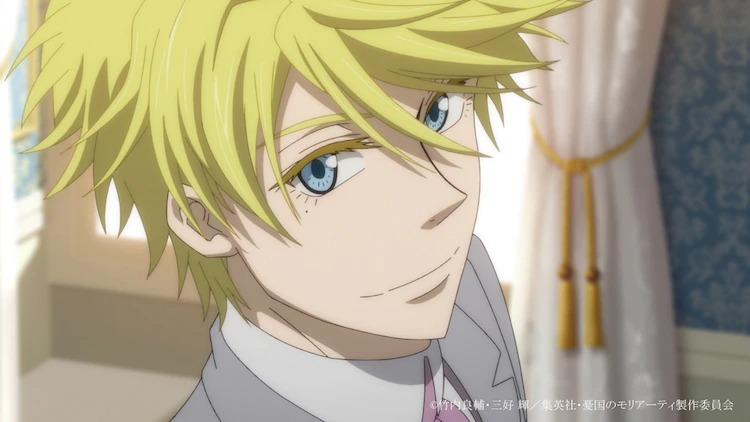 El sitio web oficial del anime Yukoku no Moriarty (Moriarty the Patriot), adaptación del manga de Ryosuke Takeuchi y Hikaru Miyoshi, anunció que la serie de OVAS de dos episodios que están en producción para la franquicia, se lanzarán en Blu-ray y DVD en abril de 2022.
La fecha específica de la llegada de estos dos episodios será el 27 de abril y sus títulos son "Yuri no Tsuioku" (Recollection of Lily) y "Moriarty-ke no Kyūjitsu" (Tea Party or literally, Moriarty Family Holiday).
El primero es una historia original del anime, es decir que no forma parte del manga. En la historia la obra de un popular pintor de la aristocracia es destruida en la ciudad británica de Bath, famosa por sus baños romanos. En el segundo episodio se adapta a un capítulo del manga que se titula igual que el OVA.
El disco en formato Blu-ray o DVD incluirá una mini ilustración exclusiva de algún personaje de la obra, un folleto de ocho páginas y una caratula ilustrada por el diseñador de personajes del anime, Tooru Ookubo.
Los actores de voz Soma Saito (William James Moriarty), Takuya Sato (Albert James Moriarty), Chiaki Kobayashi (Louis James Moriarty), Makoto Furukawa (Sherlock Holmes) y Yuki Ono (John H. Watson) asistirán al estreno en cine del primer episodio el 5 de marzo en el Nakano Sun Plaza en Tokyo.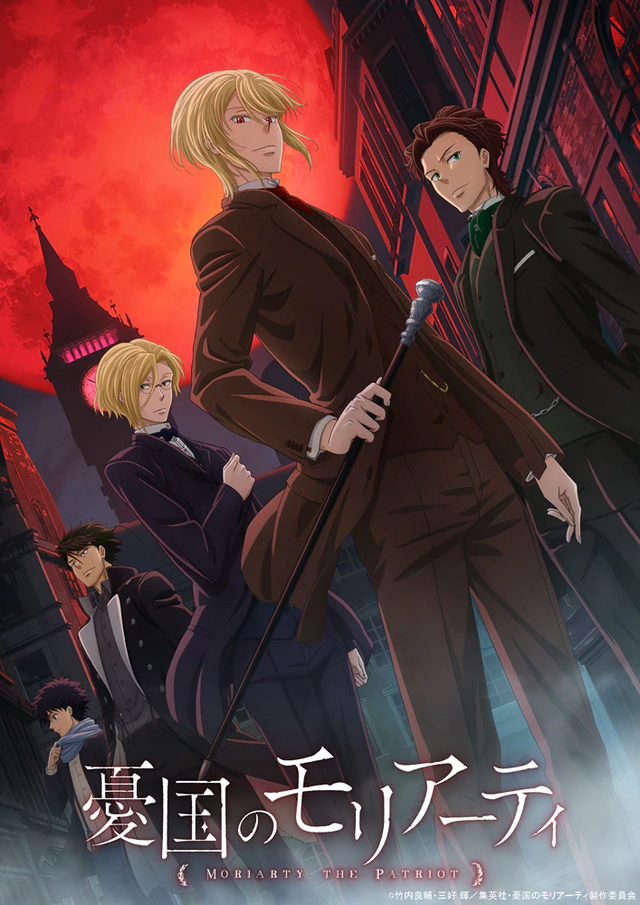 El anime Yukoku no Moriarty reinterpreta las historias originales de Sir Arthur Conan Doyle sobre Sherlock Holmes y su rival Moriarty. La obra se serializa en la revista Jump Square de la editorial Shueisha. El anime se estrenó en octubre de 2020 y contó con 24 episodios. Su segunda parte se estrenó el pasado 4 de abril e inició con el episodio 12.
Así describen la historia:
La historia la protagoniza James Moriarty, el famoso antagonista del personaje Sherlock Holmes creado por Sir Arthur Conan Doyle, quien aquí es un huérfano que toma el nombre William James Moriarty cuando él y su hermano menor son adoptados por la familia Moriarty. Su interés es acabar con la enfermedad que supone para la sociedad el estricto sistema de clases de Inglaterra.
Kazuya Nomura (Run with the Wind, Black Fox) dirigió el anime bajo Production I.G. Tooru Ookubo (Tokimeki Restaurant: Miracle6) se encargó de los diseños de personajes. A ellos se unieron Go Zappa (Ahiru no Sora) y Taku Kishimoto (Fruits Basket 2019) como responsables de los guiones, Tooru Ookubo (Sengoku Basara) como diseñador de personajes y director de animación.
Fuente: Web Oficial de Yukoku no Moriarty y Comic Natalie
---