---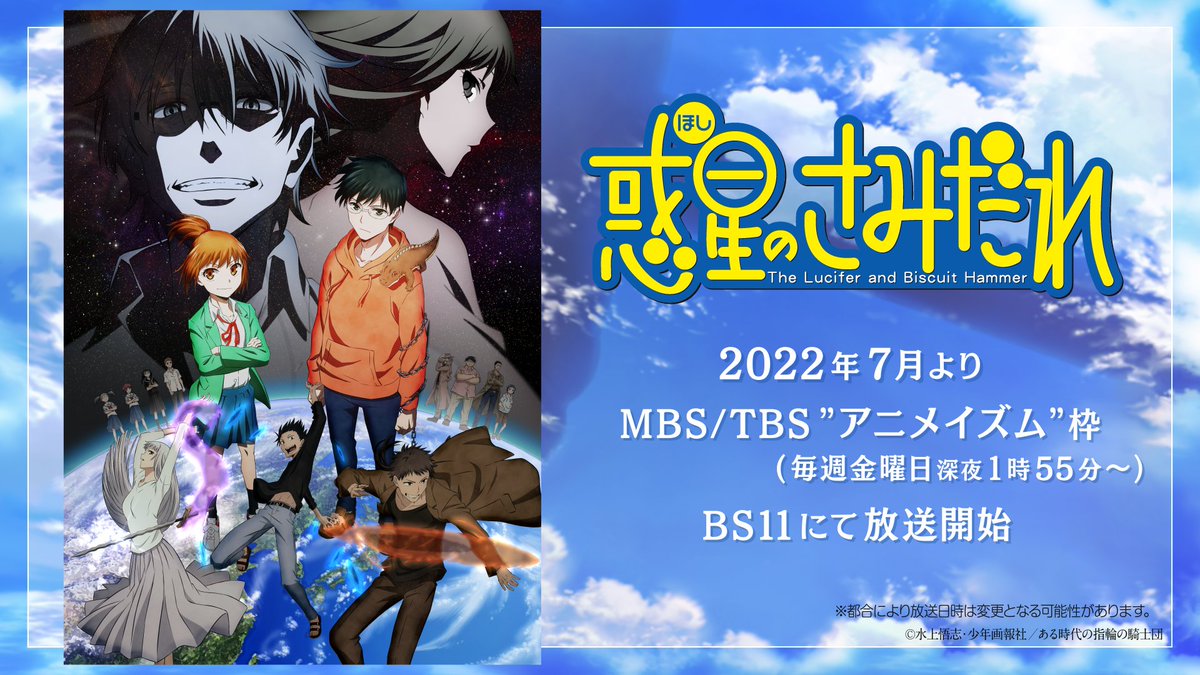 La adaptación al anime de The Lucifer and Biscuit Hammer (Hoshi no Samidare), el manga de Satoshi Mizukami, reveló 21 nuevos integrantes de su reparto y una nueva imagen promocional durante una retransmisión de Planet With.
Aquí está la nueva imagen: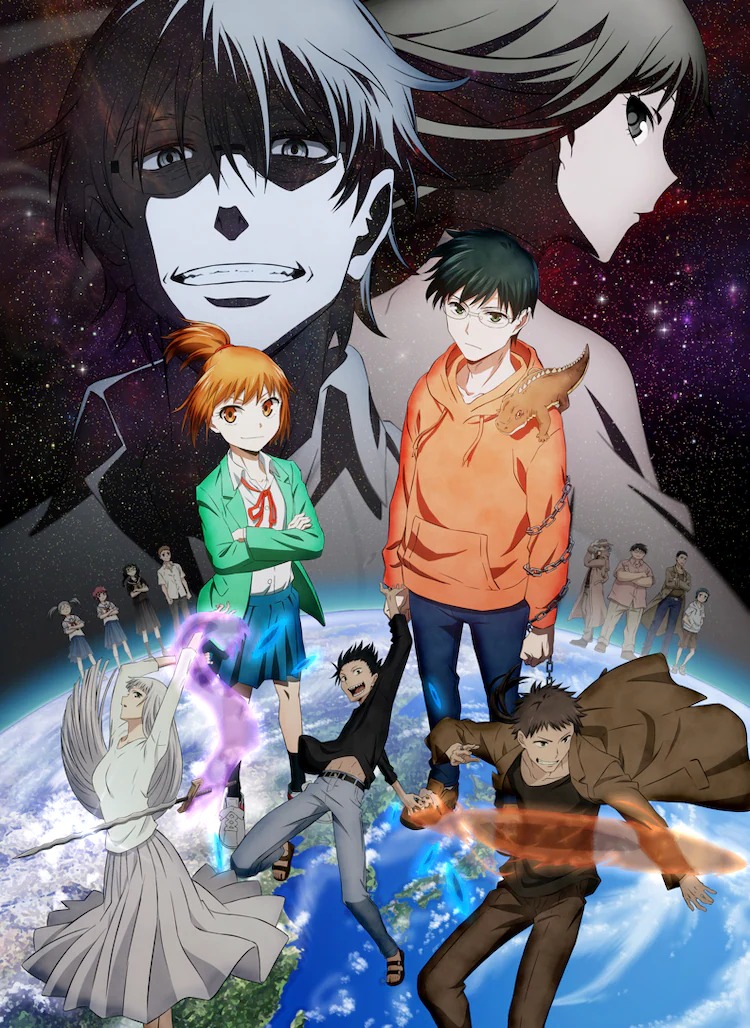 Los nuevos integrantes del reparto incluyen a:
M•A•O (Hikari Yagami en Digimon Adventure tri.) como Anima
Tatsumaru Tachibana (Yutaka Kashio en World Trigger) como Animus
Shuhei Iwase (Yasutaka en Sankarea: Undying Love) como Hangetsu Shinonome
Gen Sato (Chrome en Dr. STONE) como Mikazuki Shinonome
Tetsu Inada (Nappa en Dragon Ball Z) como Soichiro Nagumo
Aya Suzaki (Mako Mankanshoku en Kill la Kill) como Yayoi Hakudou
Chinatsu Hirose (Matsuri Hibino en Waccha PriMagi!) como Sorano Hanako
Yoshitsugu Matsuoka (Inosuke Hashibira en Demon Slayer: Kimetsu no Yaiba) como Shimaki Hyou
Nagisa Kakegawa como Coo Ritter
Hyousei (Mihoshi-sensei en Sasami Magical Girls Club) como Shea Moon
Ruriko Aoki (Yuko Kozuki en Muv-Luv Alternative) como Kiru Sonne
Azusa Tadokoro (Chloe en That Time I Got Reincarnated as a Slime) como Asahina Samidare
Mutsumi Tamura (Morganite en Land of the Lustrous) como Akane Taiyo
Shoya Ishige (Wakana Gojo en My Dress-Up Darling) como Ludo Shubarie
Kentaro Kumagai (Rajak Kertia en Noblesse) como Dance Dark
Kazutomi Yamamoto (Takashi Takahashi en Why the Hell Are You Here, Teacher!?) como Lance Lumiere
Mitsuo Iwata (Kuniharu Saiki en The Disastrous Life of Saiki K.) como Lee Soleil
Manabu Muraji (Shuji Sumimura en Kekkaishi) como Loki Helios
Katsuji Mori (Nephrite en Sailor Moon) como Ron Yue
Kazuhiro Yamaji (Hit en Dragon Ball Super) como Akitani Inachika
Tetsuei Sumiya (Sirius Tenroin en Fairy Ranmaru) como Zan Amaru
Estos son los actores de voz principales, presentados anteriormente:
【キービジュアル公開】6万人を超えるご視聴ありがとうございました!アニメ「#惑星のさみだれ」7月放送開始!公式Twitterをフォローして新情報をお待ちください!このあと、早速1つ面白企画をリリースします。 pic.twitter.com/CZkx55AFMI

— TVアニメ「惑星のさみだれ」 (@AnimeSamidare) April 16, 2022
La adaptación al anime de The Lucifer and Biscuit Hammer (Hoshi no Samidare) contará con Nobuaki Nakanishi (Mangirl!) en la dirección junto a Yuichiro Momose (So I'm a Spider, So What?) y el propio Mizukami como encargados de la composición. Todavía no se revela que estudio se encargará de la adaptación, cuyo estreno está pautado para verano de 2022.
Esta es la sinopsis de la historia:
Yuuhi Asamiya es un estudiante universitario cualquiera al que un día se le aparece un lagarto y le pide que lo ayude a salvar el mundo. Ahora Yuuhi tiene un anillo especial y cietos poderes, pero cuando el enemigo lo ataca por primera vez, quien lo salva por los pelos es Samidare, su vecina. Pero ¿qué planes tiene Samidare? Una historia que combina lo ordinario con lo más extraño y sobrenatural.
Fuente: Web Oficial del Anime
---