---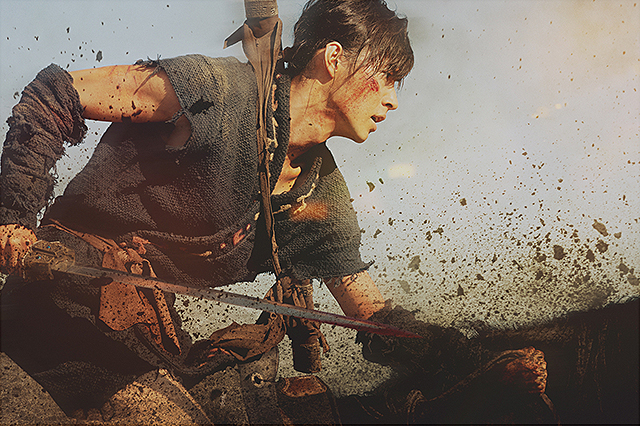 Kingdom 2 Harukanaru Daichi e (To the Land of Faraway), la segunda película de acción real basada en el manga de aventura histórica Kingdom, sigue dominando la taquilla japonesa en su segundo fin de semana. El filme ganó 415 millones de yenes (3,04 millones de dólares) gracias a sus 273 mil entradas vendidas entre el sábado 23 y el domingo 24 de julio.
La cifra representa una importante caída respecto a los 797 millones que ganó en su primer fin de semana, pero fue suficiente para conservar la primera posición, por encima de Minions: The Rise of Gru y Top Gun: Maverick. En total el filme ya acumula más de 2,27 millardos de yenes recaudados (16,7 millones de dólares) gracias a una movilización de 1,55 millones de espectadores. El filme, protagonizado por Kento Yamazaki, ya es el décimo más taquillero de 2022 en Japón, superando a Dragon Ball Super: Superhéroe.

La adaptación de acción real del manga shojo My Boyfriend in Orange (Moekare wa Orange-iro) de Non Tamashima se ubicó en la sexta posición en su tercer fin de semana en cartelera, mejoando una posición respecto a la semana anterior. En total ha recaudado 440 millones de yenes (3,22 millones de dólares).
Dragon Ball Super: Superhéroe cayó a la octava posición en su séptimo fin de semana. La película 21 de la franquicia ha ganado 2,21 millardos de yenes (16,2 millones de dólares) en su paso por las salas de cine japonesas. Mientras, Laid-Back Camp: Movie se ubicó en la décima posición en su cuarto fin de semana y la de The Quintessential Quintuplets the Movie salió de la lista en su décima semana.
Este es el Top 10 completo basado en el número de entradas vendidas durante el fin de semana:
Kingdom 2 - 2,277 millardos de yenes – Semana 2
Minions: The Rise of Gru - 1,477 millardos de yenes – Semana 2
Top Gun: Maverick - 9,694 millardos de yenes – Semana 9
Kamen Rider Revice The Movie: Battle Familia / Avataro Sentai Donbrothers the Movie: New First Love Hero – Semana 1
Ghost Book Obake Zukan – Semana 1
My Boyfriend in Orange - 440 millones de yenes – Semana 3
Thor: Love and Thunder - 1,03 millardos de yenes – Semana 3
Dragon Ball Super: SUPER HERO - 2,21 millardos de yenes – Semana 7
Lightyear - 1,02 millardos de yenes – Semana 4
Laid-Back Camp: Movie - 730 millones de yenes – Semana 4
---
Fuentes: Eiga.com, Pixiin, Filmarks y Cinema
(c)Yasuhisa Hara/Shueihsa (c)2022 Movie "Kingdom" Production Committee
(c)2021 Icuni Chowder/Pingrove Union
(c)SOTSU/SUNRISE
---