---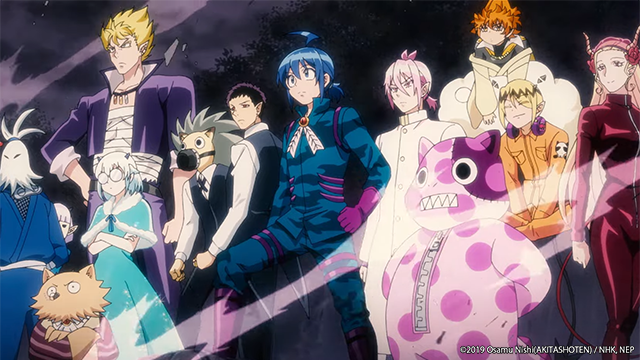 Los temas de opening y ending de Welcome to Demon School! Iruma-kun son de los más divertidos en cualquier temporada en la que se encuentran... y la temporada 3 no es la excepción. Para celebrar el regreso del estudiante de instituto favorito del infierno, el canal oficial de YouTube de la serie ha lanzado versiones sin créditos de las secuencias animadas de ambos temas.
Primero tenemos el opening, "Giri Giri Ride it out" de FANTASTICS from EXILE TRIBE. El grupo de ocho miembros está dando un paso al frente para ocupar el lugar de DA PUMP, quien se encargó de los openings de la primera y segunda temporada. El tema servirá como la cara B de su próximo sencillo "Choo Choo TRAIN", que se lanzará el 16 de noviembre.
El siguiente tema nos llega cortesía de la banda tokyota Wednesday Campanella y lleva por título "Nabe Bugyou". Ya pueden escuchar el ending en distintas plataformas de streaming de música.
Welcome to Demon School! Iruma-kun regresó la semana pasada para su tercera temporada, continuando la historia del desventurado humano Iruma mientras enseña la importancia de la amistad y amabilidad a sus compañeros de clase demoníacos, al tiempo que intenta que no se lo coman.
Fuente: Twitter Oficial de Welcome to Demon School! Iruma-kun (1, 2)
---